Wheels-964 Tramount Cup1 (RS3.8 Speedline Look) Complete Set Front 8.5"x18"-ET56 & Rear 10"x18"ET50 Silver,Dark Gray or GT2 Medium Gray Fits Porsche® 964 C2 Narrow Body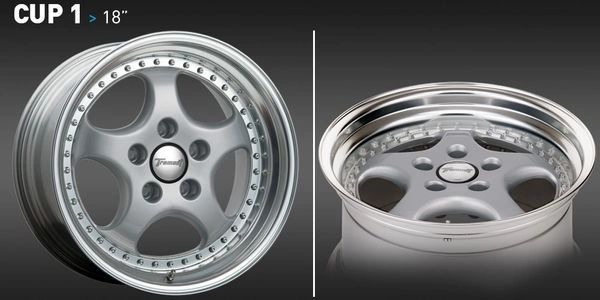 Wheels-964 Tramount Cup1 (RS3.8 Speedline Look) Complete Set Front 8.5"x18"-ET56 & Rear 10"x18"ET50 Silver,Dark Gray or GT2 Medium Gray Fits Porsche® 964 C2 Narrow Body
Tramont Cup 1 Wheels are a high quality 3 piece wheel that is licensed by  Porsche®AG. These model the original  "Speedline" that came on the rare Porsche®964 RS3.8
  Specifications- Front 8.5"X18"ET56- 1.5" outer rim & Rear10"x18"ET50-2.5"outer rim. Complete Set for narrow body Porsche®964 with stock Black brakes or Red ( not stock )(* Each customer has their wheels custom built for their car and brakes can change offsets so choose choose correct brake color when placing order ) . Wheel Color- Silver,Dark Gray, and  (GT2 Medium Gray ( see Cup 2 listing to see color). Choose color when placing an order  . Recommended Tire Size-Front- 225x40x18"& Rear- 265x35x18"

**** NEW*** FREE SHIPPING ***-Shipping from France direct to the customer * Shipping Price includes money transfer fee to France .Werks Performance also pays the import tariff and completes the US Customs import paperwork (USA only) . The tariff cost is included in the wheel price (USA only).

 - For a great source of tire sizes with a certain wheel size http://www.rimsntires.com/specspro.jsp
*All wheels are custom matched to your car before any set of wheels is shipped. Brakes types can make a difference.in final difference in offset .
Choose Color- Silver, Dark Gray or GT2 Medium Silver for an additional charge* Does not include center caps but stock Porsche®center caps fit.

   ***      ALL ORDERS ARE REVIEWED BY OUR SALES MANAGER BEFORE BEING SHIPPED TO CHECK FOR CORRECT SHIPPING COST AND CUSTOMERS WILL EITHER GET A PARTIAL REFUND OR NOTIFIED THAT THE COST WAS NO LONGER CORRECT AND MAY REQUEST ADDITIONAL FUNDS OR THE OPTION OF A REFUND . MULTI-PART ORDERS MAY END UP WITH A MAJOR REFUND FOR EXCESS SHIPPING.WE ARE ALSO CUSTOMERS AND HATE PAYING TOO MUCH FOR SHIPPING.***