Wheels-993 Tramont Cup 2 Complete Set Front 8.5"x 18"-ET42 & Rear 11"x18"ET40 Silver,Dark Gray or GT2 Medium Gray Fits Porsche® 993 C2S,C4S & Turbo Wide Body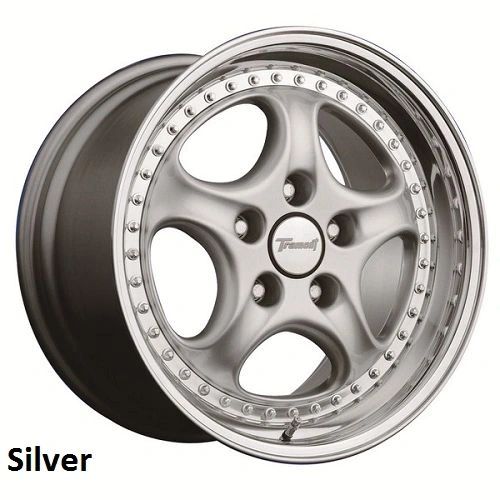 Wheels-993 Tramont Cup 2 Complete Set Front 8.5"x 18"-ET42 & Rear 11"x18"ET40 Silver,Dark Gray or GT2 Medium Gray Fits Porsche® 993 C2S,C4S & Turbo Wide Body
Tramont Cup 2 Wheels are a high quality 3 piece wheel that is licensed by Porsche®AG. These model the original  "Speedline" that came on the rare Porsche®993 RS.
  Specifications- Front 8.5"X18"ET42 outer rim 2"deep & Rear11"x18"ET40 outer rim 3.5"deep. Complete Set(4) fits the Wide Body Porsche® 993  C2S,C4S and Turbo with Red brakes (* Each customer will have their order gone over by a "Real Person" before  their wheels are custom built for their car and brakes can change offsets so choose choose correct brake color when placing order but will be confirmed in personal review of the order )Center Caps not included but the stock Porsche® Center Caps will fit .Wheel Colors available - Silver,Dark Gray, and  OPTIONAL GT2 Medium Gray.$400 Option*** If choosing GT2 Medium Gray ,the stock  Porsche®Center caps will not match .The matching caps with the Porsche logo are an option ($500.00) . Choose color when placing an order  .Proper tire size Front 235x40x18   Rear 295x30x18

*
*** NEW*** FREE SHIPPING ***-Shipping from France direct to the customer * Shipping Price includes money transfer fee to France .Werks Performance also pays the import tariff and completes the US Customs import paperwork (USA only) . The tariff cost is included in the wheel price (USA only).
 - For a great source of tire sizes with a certain wheel size http://www.rimsntires.com/specspro.jsp
*All wheels are custom matched to your car before any set of wheels is shipped. Brakes types can make a difference.in final difference in offset .
Choose Color- Silver, Dark Gray or GT2 Medium Silver for an additional charge* Does not include center caps but stock Porsche®center caps fit.

   ***      ALL ORDERS ARE REVIEWED BY OUR SALES MANAGER BEFORE BEING SHIPPED TO CHECK FOR CORRECT SHIPPING COST AND CUSTOMERS WILL EITHER GET A PARTIAL REFUND OR NOTIFIED THAT THE COST WAS NO LONGER CORRECT AND MAY REQUEST ADDITIONAL FUNDS OR THE OPTION OF A REFUND . MULTI-PART ORDERS MAY END UP WITH A MAJOR REFUND FOR EXCESS SHIPPING.WE ARE ALSO CUSTOMERS AND HATE PAYING TOO MUCH FOR SHIPPING.***