Wheels-993 Tramont Cup 1 Complete Set Front 8.5"x18"-ET42 & Rear 10"x18"ET58 Silver,Fits Porsche® 993 Carrera 2,4 Narrow Body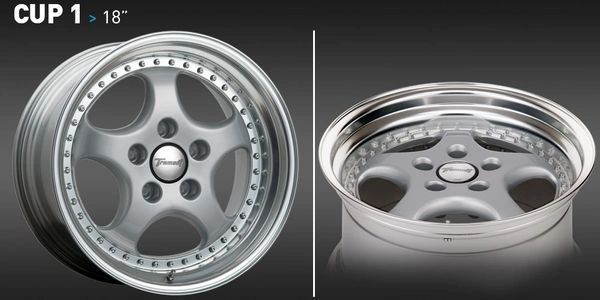 Wheels-993 Tramont Cup 1 Complete Set Front 8.5"x18"-ET42 & Rear 10"x18"ET58 Silver,Fits Porsche® 993 Carrera 2,4 Narrow Body
Tramont Cup 1 Wheels are a high quality 3 piece wheels that is licensed by Porsche® AG.
  Specifications- Front 8.5"X18"ET42 & Rear10"x18"ET58 Complete Set fits Porsche®993 Carrera 2&4 Narrow Body.The Cup 1 is typically used on 964's but some love this original "speed-line look that came on the 964RS on 993"s This is a very aggressive fit and has a nice wide lips (* Each customer has their wheels custom built for their car and brakes can change offsets so choose choose correct brake color when placing order ) . Color- Silver,Dark Gray, and  (GT2 Medium Gray. Choose color when placing an order  .


*** NEW*** FREE SHIPPING ***-Shipping from France direct to the customer * Shipping Price includes money transfer fee to France .Werks Performance also pays the import tariff and completes the US Customs import paperwork (USA only) . The tariff cost is included in the wheel price (USA only).
 - For a great source of tire sizes with a certain wheel size http://www.rimsntires.com/specspro.jsp
*All wheels are custom matched to your car before any set of wheels is shipped. Brakes types can make a difference.in final difference in offset .
Choose Color- Silver, Dark Gray or GT2 Medium Silver for an additional charge* Does not include center caps but stock Porsche® center caps fit.