Wheels-Fikse FM10- 3-Piece Forged Wheels ( Set of 2) 17",18",19"Fits Porsche® 911G-Body, 964,993,996,997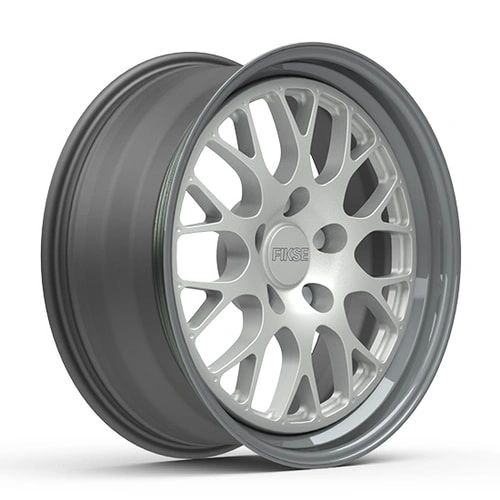 Wheels-Fikse FM10- 3-Piece Forged Wheels ( Set of 2) 17",18",19"Fits Porsche® 911G-Body, 964,993,996,997
FIKSE WHEELS
FORGED WHEELS FOR Porsche®


FIKSE FM-10
The Classic forged modular wheels, our flagship line, was first manufactured in 1992 these wheels have continued their timeless popularity among classic car enthusiasts. In modular wheel construction, two aluminum rim halves are mated to a forged wheel center section to create a strong, lightweight wheel. The lighter weight improves overall vehicle performance, especially for handling and acceleration. In 2002, we improved the performance of these wheels by incorporating a new rim design. The new rims incorporate 6061-T6 aircraft-grade aluminum and a tapered edge profile.
This new design allowed for reduced wheel weights by up to 5 of the total wheel weight. The tapered edge profile of the rim affords increased protection against curb damage while providing a streamlined appearance. The overall shape of the rims is also improved, conforming to the safety bead standards of the Tire and Rim Association.
Fikse forged modular wheels are all designed to meet international standards.
Available in 17, 18, 19
*** Current Delivery Time-10 weeks
   ***      ALL ORDERS ARE REVIEWED BY OUR SALES MANAGER BEFORE BEING SHIPPED TO CHECK FOR CORRECT SHIPPING COST AND CUSTOMERS WILL EITHER GET A PARTIAL REFUND OR NOTIFIED THAT THE COST WAS NO LONGER CORRECT AND MAY REQUEST ADDITIONAL FUNDS OR THE OPTION OF A REFUND . MULTI-PART ORDERS MAY END UP WITH A MAJOR REFUND FOR EXCESS SHIPPING.WE ARE ALSO CUSTOMERS AND HATE PAYING TOO MUCH FOR SHIPPING.***