Wheels-911SC Braid BZ (OEM Style) 9"x17"ET15 Choose Finish (Rear)Fits Porsche® 911 SC /Carrera NB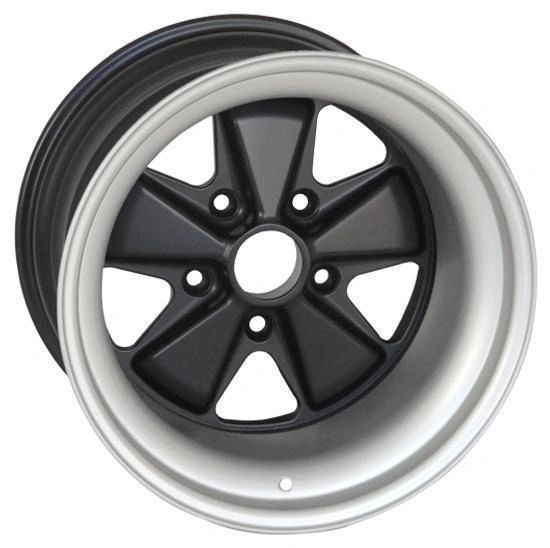 Wheels-911SC Braid BZ (OEM Style) 9"x17"ET15 Choose Finish (Rear)Fits Porsche® 911 SC /Carrera NB
Bbbb Newly Released 17" Classic Porsche Wheels!

 Classic look for old to modern  Porsche®  BZ Classic Wheels
• Designed specifically to fit Porsche®911, 964, 993 and even 996
• Lots of streetable 17" tire choices
• Proportionally accurate, deep dish
• Finest European quality
• Extends BRAID's legendary range of 15" and 16"  Porsche® wheels
• Strong, light and dependable
• Modern manufacture, not 30 year old welded centers

             All wheels come hub centric with ball seats. Weights-18 lbs. ET-15 Backspace-5.6" wheel sized to be used without rear factory spacers on Porsche®930/ OEM Turbo Look 491 Option. Finish-Silver/Black Center (SB) Suggested Tire Size Rear is 255/40/17 on a 9"x17"wheel and is a perfect match with 225/45/17 on 8"x17" wheel on the front (both are 25"Ht).  
   ***      ALL ORDERS ARE REVIEWED BY OUR SALES MANAGER BEFORE BEING SHIPPED TO CHECK FOR CORRECT SHIPPING COST AND CUSTOMERS WILL EITHER GET A PARTIAL REFUND OR NOTIFIED THAT THE COST WAS NO LONGER CORRECT AND MAY REQUEST ADDITIONAL FUNDS OR THE OPTION OF A REFUND . MULTI-PART ORDERS MAY END UP WITH A MAJOR REFUND FOR EXCESS SHIPPING.WE ARE ALSO CUSTOMERS AND HATE PAYING TOO MUCH FOR SHIPPING.*** 
Choose Finish-Standard (OEM Look), Black, RSR