Tires-Michelin Sport Cup 2 (240) Complete Set 2-225x40x18 & 2-265x35x18 Fits Porsche® 964NB C2,C4 perfect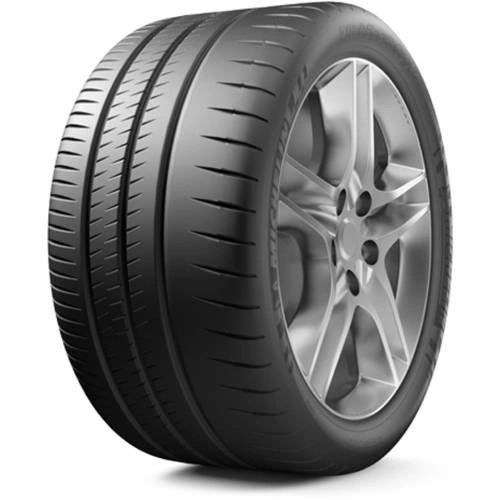 Tires-Michelin Sport Cup 2 (240) Complete Set 2-225x40x18 & 2-265x35x18 Fits Porsche® 964NB C2,C4 perfect
The Pilot Sport Cup 2 is Michelin's Streetable Track & Competition tire originally developed for Original Equipment use on the Ferrari 458 Speciale, Mercedes SLS AMG Coupe Black Series and  Porsche®918 Spyder hybrid super sports car. Designed to provide faster circuit times and consistent performance lap after lap, the Pilot Sport Cup 2 allows these supercars to achieve their full potential in dry conditions.
WARNING: Pilot Sport Cup 2 radials meet DOT requirements; however, they are not recommended for driving in wet conditions where standing water is present and there is the risk of hydroplaning; drivers should drive cautiously at reduced speeds if they encounter these conditions. This is especially true of shaved or worn tires. And like other Streetable Track & Competition tires, these tires are not intended to be stored, serviced nor driven in near- or below freezing temperatures, through snow or on ice.
The Pilot Sport Cup 2's tread molds Michelin's Bi-Compound technology into an asymmetric design. Bi-Compound technology features different rubber compounds on the tread's outboard and inboard regions. Massive outboard shoulders feature a tread rubber whose hardness has been specially designed to deliver maximum adherence and outstanding dry grip on curves, especially on tight corners. Notched center ribs and an inboard shoulder use tread rubber featuring a more rigid elastomer to ensure precision steering.
Pilot Sport Cup 2 tires feature MICHELIN® Variable Contact Patch 3.0, an innovation evolved from the Variable Contact Patch 2.0 technology integrated into Pilot Super Sport and Pilot Sport A/S 3 tires. Variable Contact Patch 3.0 maximizes the contact patch size and optimizes its footprint pressure so that more rubber remains in contact with the track when cornering, thereby ensuring superior grip in curves and tight corners.
The tire's internal structure features twin steel belts reinforced by spirally wound Twaron cord. Twaron is a polyamide cord that offers a lightweight, high-strength reinforcement above the steel belts to enhance high-speed durability, handling and wear. MICHELIN® FAZ Technology (Filament At Zero degrees) winds the Twaron cord around the tire circumference, much the same way fishing line is wound onto fishing reels, to allow Michelin engineers to tune tension and strength. The Twaron is applied with variable tension between the shoulders and the center of the tire, and is tightened so firmly that it literally locks the tire structure into a practically inelastic belt. As a result, the tire's footprint remains constant and centrifugal force is effectively controlled, even at very high speeds.
MICHELIN® Pilot® Sport Cup 2 features a polyester casing that combines ride comfort with responsive handling. Its bead region is 10% wider than that of traditional sports tires and is strengthened with a high modulus rubber compound that increases the tire's lateral stiffness and delivers sporty responsiveness, as well as precision steering.
   ***      ALL ORDERS ARE REVIEWED BY OUR SALES MANAGER BEFORE BEING SHIPPED TO CHECK FOR CORRECT SHIPPING COST AND CUSTOMERS WILL EITHER GET A PARTIAL REFUND OR NOTIFIED THAT THE COST WAS NO LONGER CORRECT AND MAY REQUEST ADDITIONAL FUNDS OR THE OPTION OF A REFUND . MULTI-PART ORDERS MAY END UP WITH A MAJOR REFUND FOR EXCESS SHIPPING.WE ARE ALSO CUSTOMERS AND HATE PAYING TOO MUCH FOR SHIPPING.***