Engine Components-IPD Intake Plenum Fits Porsche® Carrera 3.8S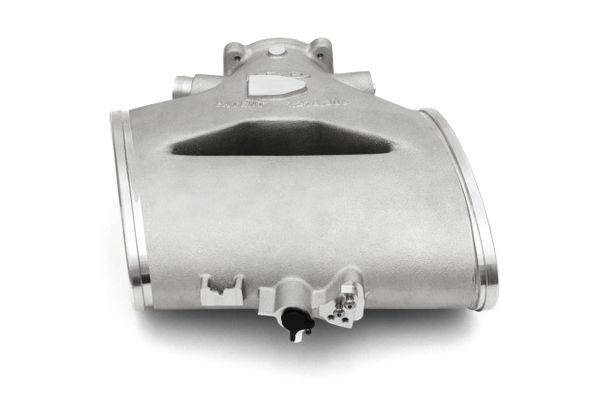 Engine Components-IPD Intake Plenum Fits Porsche® Carrera 3.8S
Product Details:
The perfect compliment to Porsche®991 Carrera exhaust upgrades, this high performance intake plenum from Innovative Pro Design provides substantial power gains by increasing the efficiency and flow of the engine's air intake system.                                                                                 
FEATURES:


The all new specifically-designed Plenum for the Porsche®3.4L Carrera and Porsche®3.8L Carrera S is a direct bolt-on upgrade that replaces the factory air intake distributor and utilizes all pre-existing factory hardware and throttle body.
The improved IPD intake design allows for smoother, less turbulent and more efficient air flow resulting in impressive power and torque gains for Porsche driving enthusiasts.
The superior design of the DFI IPD Plenum provides an additional 15 horsepower at the wheels. Unlike previous naturally aspirated IPD plenums that delivered stronger gains in the mid range, the new IPD DFI Plenums deliver a similar shaped power curve as the factory but are considerably stronger from the mid range to redline without any loses in power down low.
Installation time is about 4-5 hours and should only be performed by a qualified Porsche technician.
Superior and more efficient design over the factory intake.
The IPD Plenums are products of efficiency that simply improve intake air flow and increase air velocity. The "Y" shape design and dimpled interior surface make air flow more laminar (less turbulent) dramatically improving power and torque across the entire RPM band. Smoother more optimized intake air flow will improve the performance of any engines. The more efficiently an engine breaths, the more efficiently it produces power. 

Deliver impressive power gains regardless of modifications.
The superior design of the IPD Plenums optimize flow while increasing air velocity. Period! This applies to any Porsche® engine, producing any level of power. The patented "Y" design delivers impressive performance gains for both bone-stock and highly modified Porsche's®. The more efficient design of the IPD Plenum will always outperform the factory air distributor. The factory intake will become even more detrimental to performance as your increase the power and torque outputs. The bigger the power, the better the IPD Plenum performs.


Produce substantial gains for both turbo and NA applications.
The Plenums always deliver considerable gains on both turbo AND naturally aspirated engines. It's a fact that the Turbo Plenums do produce more power than the NA Plenums. But the Turbo engines also produce more power. The fact is that the percentage gains of the different Plenum applications are actually almost identical, around 8-10% depending on the specific model. 


Do not require an ECU flash and will not cause a CEL.
IPD Plenums should never cause a CEL or require an ECU Flash. If a Plenum is installed correctly there should be no fault codes or running issues, only solid performance gains across the entire RPM band. The only issue that could possibly arise is the need for a new MAF sensor if you already have a degraded sensor or perform a TB adaptation. There is absolutely no need to re-flash your ECU after installing an IPD Plenum, Period! Although any reputable  Porsche® tuner could further optimize an ECU program to achieve even greater performance gains with the Plenum installed.


Aluminum Plenums run cooler and don't suffer from heat soak.
The Aluminum Plenums do NOT experience heat soak under driving or racing conditions. It is true that aluminum has a higher thermal conductivity than plastic. In fact, aluminum is 650 times more thermally conductive than plastic and has a specific heat capacity that is 550 times higher than plastic. This means the aluminum Plenum actually spreads the energy it's exposed to 656 times faster than the plastic and can store more than 550 times the amount of energy per unit mass. Bottom line, aluminum can absorb more heat than plastic, but it also takes considerably more energy to heat up and it's losing that energy way faster than the aluminum allowing the IPD Plenum to remain cooler from outside ambient air under driving conditions, ultimately improving engine performance over plastic. Plus, why would Porsche® utilize aluminum intakes on GT3's, GT2's, Cup Cars and Cup R's?
Note- Disconnect battery before installation. If fault codes or a problem persist contact a Porsche Service Center.
  

***      ALL ORDERS ARE REVIEWED BY OUR SALES MANAGER BEFORE BEING SHIPPED TO CHECK FOR CORRECT SHIPPING COST AND CUSTOMERS WILL EITHER GET A PARTIAL REFUND OR NOTIFIED THAT THE COST WAS NO LONGER CORRECT AND MAY REQUEST ADDITIONAL FUNDS OR THE OPTION OF A REFUND . MULTI-PART ORDERS MAY END UP WITH A MAJOR REFUND FOR EXCESS SHIPPING.WE ARE ALSO CUSTOMERS AND HATE PAYING TOO MUCH FOR SHIPPING.***