Engine Components-AEM Infinity Series 7 Stand Alone ECU/ Optional Plug And Play Harness Fits Porsche®996 Turbo 2001-2005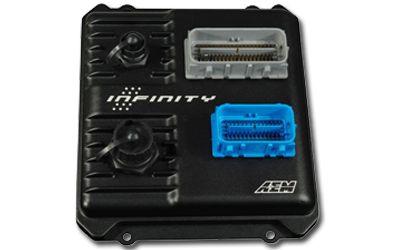 Engine Components-AEM Infinity Series 7 Stand Alone ECU/ Optional Plug And Play Harness Fits Porsche®996 Turbo 2001-2005
.
* In order to use this Infinity "Stand Alone" Series 7 ECU (30-7109) that is just for this model Porsche you must have/buy the "optional" Plug & Play Harness (30-3902) or be a very skilled electrical engineer/specialist tuner. The "Stand Alone" means you are on your own if you don't use the Plug and Play Harness.
A Complete Stand Alone ECU for the  Porsche®996 Turbo
The Infinity ECU combines with the Plug & Play harness to replace the Porsche 996 factory ECU. It controls all of the engine functions including the MAF and Drive by Wire (DBW) system.
200MHz Processor and Real Time Operating System
Late model vehicle ECU's all run on faster processors. The Infinity ECU is built around a latest-generation 32 bit floating point 200MHz automotive processor and Real Time Operating System (RTOS), which is capable of processing 400 MIPS (millions of instructions per second). By comparison, common competitive systems typically use 20MHz to 50MHz processors. To our knowledge, the Infinity ECU currently has the fastest processing speed of any aftermarket Motorsports ECU available. This allows the Infinity to do more, faster, in a more stable programming environment.
The Infinity's 200MHz processor and RTOS makes the Infinity more responsive, for a better driving experience
The Infinity's 200MHz processor and RTOS allows for more accurate ignition timing, which enables an engine to create more power
The Infinity's faster processor allows it to perform more computational features with no sacrifice in processing performance
The Infinity's RTOS ensures strategic processing with optimized load balancing. This means that tuning one feature will not affect the performance of another feature


   ***      ALL ORDERS ARE REVIEWED BY OUR SALES MANAGER BEFORE BEING SHIPPED TO CHECK FOR CORRECT SHIPPING COST AND CUSTOMERS WILL EITHER GET A PARTIAL REFUND OR NOTIFIED THAT THE COST WAS NO LONGER CORRECT AND MAY REQUEST ADDITIONAL FUNDS OR THE OPTION OF A REFUND . MULTI-PART ORDERS MAY END UP WITH A MAJOR REFUND FOR EXCESS SHIPPING.WE ARE ALSO CUSTOMERS AND HATE PAYING TOO MUCH FOR SHIPPING.*** 






The AEM Infinity Series 7 Stand Alone ECU  combined with AEM's Plug & Play Adapter Harness,  completely replaces the factory Porsche ECU and does not require any additional accessories, sensors or modules for proper operation. Installation can be completed in about an hour when using all of the factory sensors.


Full Drive-by-Wire and VarioCam Plus Control

The Infinity ECU for the Porsche 997 and 996 provides two Drive-by-Wire profiles and complete control of the VarioCam Plus variable valve timing system for optimizing mid-range torque. The factory Sport button is used to change DBW throttle curves.

Full Engine Support for Mass Airflow Sensors, Wastegate-less Turbos and More

AEM's Porsche 997/996 Infinity ECU supports both stock mass airflow (MAF) sensors and does not require the addition of a MAP sensor for operation. The factory wastegate-less variable turbine geometry turbos used in the 997 Turbo are also supported, as are the factory electronic bypass valves.

The Infinity ECU also provides full support for:

Stock charge pressure sensor

Engine compartment temp sensor

Engine blower fan

Electronic water pump

Dual stock fuel pumps

Dual stock EGT sensors

Dual stock UEGO sensors

Plug & Play Harness with Expansion Port

AEM's sealed, weatherproof Plug & Play harness (sold separately) includes an AEMnet port for communication with other AEMnet enabled devices and CAN integration of the factory inputs for brake switch, clutch switches, cruise buttons, wheel speed sensors, sport button, coolant fans and A/C. The factory dash remains functional (coolant temp, oil temp, oil pressure, tachometer, dash lights/notifications, boost pressure readout, etc.).


An expansion port with a High Performance DTM-Style 12P connector is included in the Plug & Play Adapter Harness for adding common aftermarket sensors including fuel pressure, air inlet temperature, MAP, boost control solenoid and ethanol content. The expansion port also includes a sensor ground, 5v reference, power from relay and high side output for activating a solenoid, and switched inputs for boost target, no-lift shift, etc.

Racing Enabled Functions via Configurable Cruise Control Buttons

On the Porsche 997/996, the Infinity programmable ECU delivers the ability to enable racing functions through the Cruise Control buttons. Using InfinityTuner software, users can now select from 8 modes for boost control maps, fuel maps, timing maps, Lambda target and select maps on the fly using the factory cruise UP (+) and DOWN (-) buttons. AEM incorporated the Infinity's map switching capability into the factory steering wheel buttons, eliminating the need to wire in and mount an ancillary position switch.

Users can configure the CRUISE CANCEL as a temporary three step limiter switch through the InfinityTuner software (vehicle speed or time after launch dependent), and can set rev limits at specific rpm by points or set a flat limiter and use it as an RPM hold for launches.

Launch anti lag and traction control slip target can also be programmed.

Traction Control
The Porsche 997 Turbo and 996 Turbo come with wheel speed/ABS sensors from the factory, and the Infinity is able to use them for traction control via fuel cut, spark cut, spark retard or retracting DBW throttle response. This eliminates the need to install additional sensors for traction control.

The CRUISE SET/HOLD can be configured as a traction control enable or disable button through the InfinityTuner software. Users can define a specific slip target for traction control in the software and turn it on or off using this button, or set two slip targets and use it for a mild and aggressive traction control strategy.

User Definable DBW Throttle Response
Using the Sport button, users can define throttle curves in the InfinityTuner DBW software and take full control of throttle response. This allows users to change throttle response rate on the fly and is ideal for setting rain mode throttle curves.

Fits In Factory ECU Location

AEM's engineers have designed the Infinity ECU and harness to fit in the factory ECU location under the shelf to maintain overall weather resistance of the electronics.

Enhanced Security
Users can configure a number of analog, digital or CAN inputs to enable starting when using the Porsche 997/996 Infinity ECU and Plug & Play Harness. The supplied base calibration is configured to allow factory like starting with the clutch switch, or by pressing the cruise control enable button to effectively bypass the clutch switch. For added security, users can install a hidden switch to enable starting, and can fully disable the 2D Start Enable table and password protect it, preventing starting until the table is unlocked and re-enabled through password input.

Infinity ECU Features:

Airflow model based (VE) tuning

ECU Set Up Wizard simplifies start up

Flex fuel compatible

Programmable drive by wire

Variable valve control

Multiple programmable boost control strategies

Programmable nitrous control

On-the-fly map switching

Dual internal Lambda controller

Dual knock sensing circuits

Data logging up to 64GB, logging rate up to 1KHz/channel

Outputs to 3rd party dashes and data loggers

Industry leading data transfer speed (up to 480Mb/sec)

Integrated engine protection strategies

Sealed enclosure and IP67 rated comms ports

The Infinity ECU makes state-of-the-art ECU technology affordable for both professional teams and amateur racers. Built around a latest-generation 32 bit floating point 200MHz automotive processor and Real Time Operating System (RTOS), the Infinity is capable of processing 400 MIPS (millions of instructions per second). To our knowledge, the Infinity ECU currently has the fastest processing speed of any aftermarket Motorsports ECU available. This processing speed combined with a RTOS provides more accurate ignition timing for increased power, more responsiveness to truly custom tailor the driving experience to the driver, allows the Infinity to perform more computational features without a sacrifice in processing performance, and enables tuning of features and sub strategies without affecting other features and sub strategies. It allows you to do more, faster, in a more stable programming environment.


   ***      ALL ORDERS ARE REVIEWED BY OUR SALES MANAGER BEFORE BEING SHIPPED TO CHECK FOR CORRECT SHIPPING COST AND CUSTOMERS WILL EITHER GET A PARTIAL REFUND OR NOTIFIED THAT THE COST WAS NO LONGER CORRECT AND MAY REQUEST ADDITIONAL FUNDS OR THE OPTION OF A REFUND . MULTI-PART ORDERS MAY END UP WITH A MAJOR REFUND FOR EXCESS SHIPPING.WE ARE ALSO CUSTOMERS AND HATE PAYING TOO MUCH FOR SHIPPING.***