Engine Components-Ported Billet Aluminum Heads Complete set of six Fits Porsche®911/964/993/ 1972-98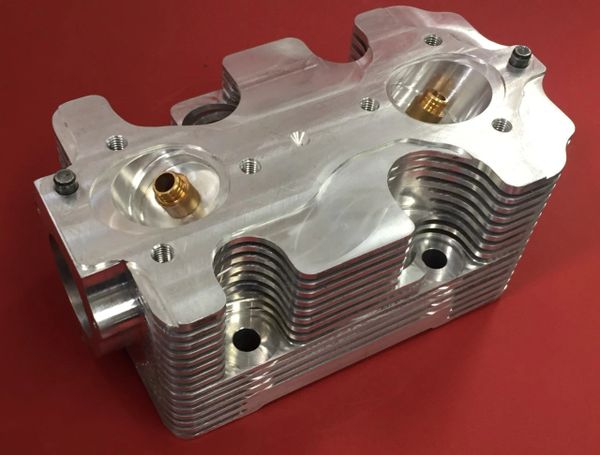 Engine Components-Ported Billet Aluminum Heads Complete set of six Fits Porsche®911/964/993/ 1972-98
*** Due to the fact that most" potential" customers  have questions about their engine build no matter how well we describe our Customs Billet Heads we can no longer reply to questions and spend valuable shop time trying to treat each "potential customer as a "real customer". If you want the best Billet Heads for your "air-cooled " Porsche®911 engine, we have the shop that custom builds what you need from heads to the rest of the high end (race spec) components ,rods,crankshafts and cams to provide all the major components . Each customer needs to select the proper Billet Heads that seems the most appropriate for your engine and then you will be receiving a very professional personal conversation/conversation's to make sure the selection was correct for your engine goals. Most of these sales are done in 2 transactions because of the many options that are available. If you are not happy with the advice you will get a refund * We will build the heads to match your complete engine goals.  All other high end components that we offer , have too many options to be listed  in an online store. We are working on complete Billet engine cases that will be "bullet proof"in the near future. Air-Cooled Porsche® 911 engines are not going to be limited to past production cases (which are to valuable and fragile to put major HP in them)  . Werks Performance is a very reliable company that makes a great effort in personal customer service for all products we sell . We work with all the quality manufactures in the aftermarket  Porsche® parts industry  . Our goal is to provide a hassle free and comprehensive solution for building your custom  Porsche®911 engine .                                                                                                                                                                                                                                                                                                                                                                                                               Our Werks Performance heads are made from billet of 6061 aluminum. In contrast with the aluminum castings used by Porsche, the billet has no porosity, is stronger, and has much more even cooling. This means that head flex, cracking, and hot and cold spots are a thing of the past.Our heads will pull maximum power out of your air-cooled Porsche engine.

The billet heads are machined on a four-axis computer numerical controlled (CNC) mill. This makes it possible to manufacture heads that are virtually identical to one another, a big difference from the  Porsche® heads. In fact,  Porsche® factory heads are almost as different as fingerprints. Valve angle, spark plug angle, spark plug index, and other important aspects of the heads fluctuated so greatly from head to head this is no longer the case with our billet heads. Our heads were developed to have perfect air flow on both intake and exhaust ports.

The heads are available in 2.4,2.7, 3.0,3.2,3.3, 3.6 and 3.8 for air-cooled  Porsche® engines.  Choose-Valves,Engine size,and number of spark plugs . Sold as complete set of SIX heads.

*All refunds on custom engine components are subject to a 20% consulting fee.  Sorry ,but this team does not work for free.
   ***      ALL ORDERS ARE REVIEWED BY OUR SALES MANAGER BEFORE BEING SHIPPED TO CHECK FOR CORRECT SHIPPING COST AND CUSTOMERS WILL EITHER GET A PARTIAL REFUND OR NOTIFIED THAT THE COST WAS NO LONGER CORRECT AND MAY REQUEST ADDITIONAL FUNDS OR THE OPTION OF A REFUND . MULTI-PART ORDERS MAY END UP WITH A MAJOR REFUND FOR EXCESS SHIPPING.WE ARE ALSO CUSTOMERS AND HATE PAYING TOO MUCH FOR SHIPPING.***