Driveline Components-Billet Short Shift Ultimate Kit-G50 ***1990-91 964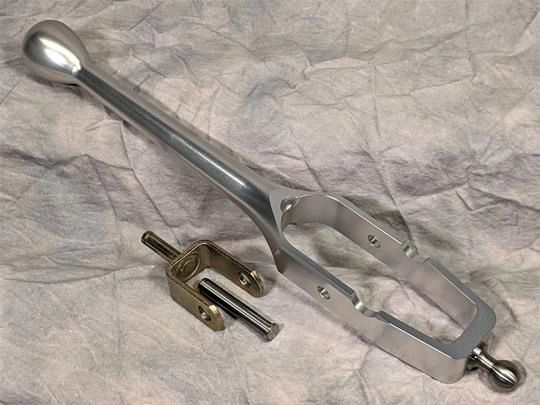 Driveline Components-Billet Short Shift Ultimate Kit-G50 ***1990-91 964
      High quality Billet Short Shifter(RS006C) is  for 964/ 993 2WD cars only. CNC machined from 6061 aircraft alloy and anodized. This shifter is double shear instead of single shear providing a cleaner feel, also shortens the throw by one inch. Silver , Black finish or Stock (for OEM shift knob). For G50 .The Ultimate Shift Kit also includes FD RS Style Rod and FD Forward Shift Rod-*** This Kit is for 1990 -91 964  -RS-006KIT is for 1992-97 964/993

The Golden Rod/ RS Style Shift Rod(FDGR) provides a much more precise shift. By replacing the rubber joint in the 993 rod (or poly bushings in the 964 rod) with a u-joint.
This modification immediately improves the sloppy "vague feel" associated with the original shift rods.
The Forward Shift Rod(FDFR) replaces the sloppy ball and cup coupler (which will fail over time) providing a tight precision feel every time you shift.
   ***      ALL ORDERS ARE REVIEWED BY OUR SALES MANAGER BEFORE BEING SHIPPED TO CHECK FOR CORRECT SHIPPING COST AND CUSTOMERS WILL EITHER GET A PARTIAL REFUND OR NOTIFIED THAT THE COST WAS NO LONGER CORRECT AND MAY REQUEST ADDITIONAL FUNDS OR THE OPTION OF A REFUND . MULTI-PART ORDERS MAY END UP WITH A MAJOR REFUND FOR EXCESS SHIPPING.WE ARE ALSO CUSTOMERS AND HATE PAYING TOO MUCH FOR SHIPPING.*** 
Note: For installation,  a stud must be pressed in the bottom of the shifter.
The (90-91) 964 cars come with round bushings in the shift console under the shifter in the tunnel.
The bushings need to be updated to the Oblong Bushings (RS-Kit) so you can install our billet short shifter.
Kit includes (2) bushings and a template for inscribing the cut at the top of the existing holes in the console.
   ***      ALL ORDERS ARE REVIEWED BY OUR SALES MANAGER BEFORE BEING SHIPPED TO CHECK FOR CORRECT SHIPPING COST AND CUSTOMERS WILL EITHER GET A PARTIAL REFUND OR NOTIFIED THAT THE COST WAS NO LONGER CORRECT AND MAY REQUEST ADDITIONAL FUNDS OR THE OPTION OF A REFUND . MULTI-PART ORDERS MAY END UP WITH A MAJOR REFUND FOR EXCESS SHIPPING.WE ARE ALSO CUSTOMERS AND HATE PAYING TOO MUCH FOR SHIPPING.***