Coilover Systems-Von Shocks Coilovers Front (Pair) Fits Porsche®911 1965-89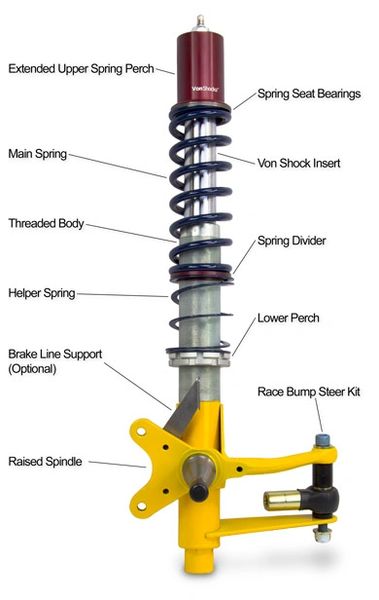 Coilover Systems-Von Shocks Coilovers Front (Pair) Fits Porsche®911 1965-89
Front Coilovers
Complete Von Shocks™ Front Coilover System fully engineered and ready to bolt on. No guesswork. Tuned spring rates, shock valving, spring lengths that all work together right out of the box.
Levels - Choose from 4 levels, each tuned with springs and valving matched to your planned usage:
level 1 - Street performance, canyon carver
level 2 - Autocross, Drivers Education
level 3 - Time trial
level 4 - Dedicated race car
Front Coilover system is based on the RSR strut with threaded body.
Raised spindle height - Choose between +19mm, 30mm and 40mm height. Changing the spindle height is the right way of lowering the 911 car. It improves the suspension travel (bottoming out) and improves the geometry.
Extended upper spring perch with friction free bearings - More clearance allows for more camber by preventing spring from contacting chassis. Spring seat bearings are included for smooth action. These seat bearings prevent spring windup. Coilovers without this bearings can make the steering feel very heavy as the spring fights to re-center the steering. Needle bearings prevent the coil windup, and lighten the steering feel.
Double steering knuckle - Holds tie rod end between two steering knuckles to eliminate knuckle flex.
Bump steer adjustable - Included is a racing bump steer kit which allows for massive tie rod adjustment range. Weather sealed rods ends included work with regular and turbo tie rods.