Sway Bars-Hollow Adjustable Sway Bars (Front) Fits Porsche®911/ 1965-89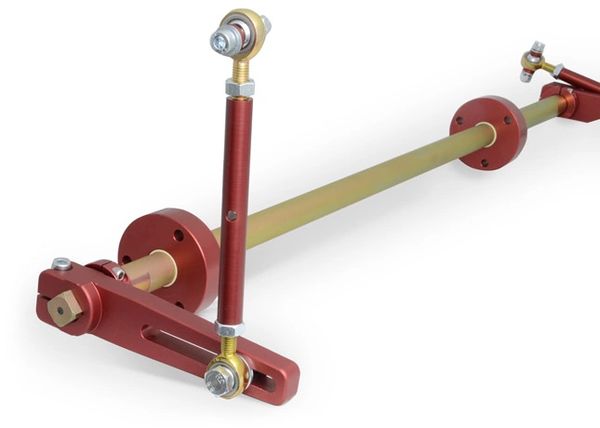 Sway Bars-Hollow Adjustable Sway Bars (Front) Fits Porsche®911/ 1965-89
Hollow Adjustable Sway Bar System
Conventional design and top quality make this the affordable choice for high performance and adjustment.
Lightweight 
Hollow bars weigh half as much as similar solid bars delivering equal stiffness.
Broad range of adjustment
Adjustable drop-link arm connections provides continuous positioning for infinitely variable adjustment.
Drop links
Left and right threaded precision rod ends make easy work of adjusting front drop link length. Adjustable length makes it easy to eliminate any preload on the bar. Teflon lined rod ends never require lubrication. 
Bushings
Teflon impregnated bushings are grease and maintenance free and provide smooth operation and long life. 
Front Sway Bar
Rear Sway Bar
Through-body style front bar
Installs through the body same as the pre-1974 cars and the early turbo cars. Cars not originally equipped with a through-body sway should purchase the optional backer plate kit. 
   ***      ALL ORDERS ARE REVIEWED BY OUR SALES MANAGER BEFORE BEING SHIPPED TO CHECK FOR CORRECT SHIPPING COST AND CUSTOMERS WILL EITHER GET A PARTIAL REFUND OR NOTIFIED THAT THE COST WAS NO LONGER CORRECT AND MAY REQUEST ADDITIONAL FUNDS OR THE OPTION OF A REFUND . MULTI-PART ORDERS MAY END UP WITH A MAJOR REFUND FOR EXCESS SHIPPING.WE ARE ALSO CUSTOMERS AND HATE PAYING TOO MUCH FOR SHIPPING.***