Steering Components-Racing Bump Steer Kit 40mm Spindle Ht Porsche®1965-89 911/912/914/930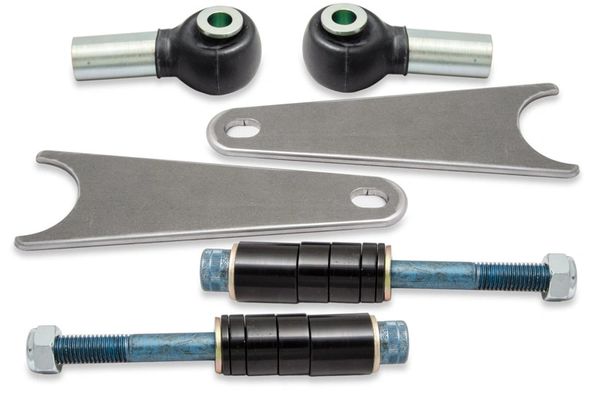 Steering Components-Racing Bump Steer Kit 40mm Spindle Ht Porsche®1965-89 911/912/914/930
Our top-performing bump steer solution is super strong and provides the sharpest, most predictable steering response. It eliminates steering knuckle twist induced toe steer. It can be used on raised spindles of any height.
Double steering knuckle - Holds tie rod end between two steering knuckles to eliminate knuckle flex regardless of bump steer spacer length.
Long bump steer spacers (required with raised spindles) place bending loads that twist stock steering knuckles. Twist causes undesired toe steer.
Second steering knuckle is welded to the strut body. You can optionally have us perform the welding for you, here.
Bump steer adjustable - allows massive bump steer adjustment range in .125 inch increments. Double shear mounting provides solid support for even the longest bump steer spacing.
Rod End - Weather sealed precision rods ends included work with regular turbo tie rods. Included boots to seal out dirt and and water for extended life.
Our purpose-made rod ends are extra long to ensure proper threaded engagement with standard turbo tie rods.
Spindle height - Kits available for 19mm, 30mm, 40mm spindle height. Kits are easily modified for use with essentially any spindle height.
   ***      ALL ORDERS ARE REVIEWED BY OUR SALES MANAGER BEFORE BEING SHIPPED TO CHECK FOR CORRECT SHIPPING COST AND CUSTOMERS WILL EITHER GET A PARTIAL REFUND OR NOTIFIED THAT THE COST WAS NO LONGER CORRECT AND MAY REQUEST ADDITIONAL FUNDS OR THE OPTION OF A REFUND . MULTI-PART ORDERS MAY END UP WITH A MAJOR REFUND FOR EXCESS SHIPPING.WE ARE ALSO CUSTOMERS AND HATE PAYING TOO MUCH FOR SHIPPING.***