Spring Plates-ASP Adjustable Spring Plate Kit (1 Set) 1969-89 Fits Porsche® 911/912/ 1975-1988 Porsche® 930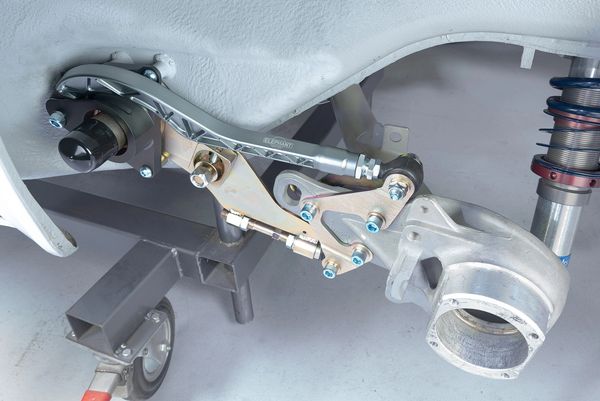 Spring Plates-ASP Adjustable Spring Plate Kit (1 Set) 1969-89 Fits Porsche® 911/912/ 1975-1988 Porsche® 930
More Grip, Better Tire Contact Patch
Updates the rear suspension camber curve to meet the needs of modern, wide, low-profile radial tires. The result is superior grip in turns, superior grip in straight-line braking, reduced tire wear. Excellent for both street and track.NEW & REDESIGNED TO BE A MUST HAVE PART FOR ALL CLASSIC RACE 911'S

• Improved contact patch in turns
• Improved contact patch for straight-line braking
• Go street-to-track with one camber setting
• Reduced tire wear
• Reduced camber thrust/rolling resistance
ASP Makes The Tire Gain Camber Faster. 
As the suspension compresses in turns, countering the effects of body roll and matching the needs of modern radial tires. The tire remains square with the road surface and the contact patch is improved. Grip increases.
With the ASP '69-'89 911s can now achieve modern suspension performance.
Easy To Setup Toe And Camber Independently.
Replaces the troublesome stock eccentric adjusters with simple double-adjusters.
ASP allows adjustment with vehicle weight resting on the tires making it easy to read a camber / toe gauge while turning the adjusters. Quick changes can be made track-side even if a camber gauge is not available.
• Upper and lower double-adjusters
• Rotate same direction to set toe
• Rotate opposite direction to set static camber
Replaces stock '69-'89 on Porsche®911 and 1975-87 on Porsche®930 spring plate blade and spring plate cover. Bolt on - no welding required, works with torsion bars or coil-overs. Use with any standard size bushing - not included - Poly Bronze recommended. Requires the splined hub portion from a set of factory adjustable spring plates or the Quick Change Spring Plate splined hub. Download instructions for more information.Note - Some images show the ASP Pictured with optionally available Quick Change Splined Hub and Poly Bronze Bearings. Trailing arm is not included and is shown for reference only
   ***      ALL ORDERS ARE REVIEWED BY OUR SALES MANAGER BEFORE BEING SHIPPED TO CHECK FOR CORRECT SHIPPING COST AND CUSTOMERS WILL EITHER GET A PARTIAL REFUND OR NOTIFIED THAT THE COST WAS NO LONGER CORRECT AND MAY REQUEST ADDITIONAL FUNDS OR THE OPTION OF A REFUND . MULTI-PART ORDERS MAY END UP WITH A MAJOR REFUND FOR EXCESS SHIPPING.WE ARE ALSO CUSTOMERS AND HATE PAYING TOO MUCH FOR SHIPPING.***