Seats-Sparco Street or Racing Drivers Seat/Competition Series EVO in Black - Small ,Medium ,Tall, Portly and Very Large people options (Mounting Base is an option))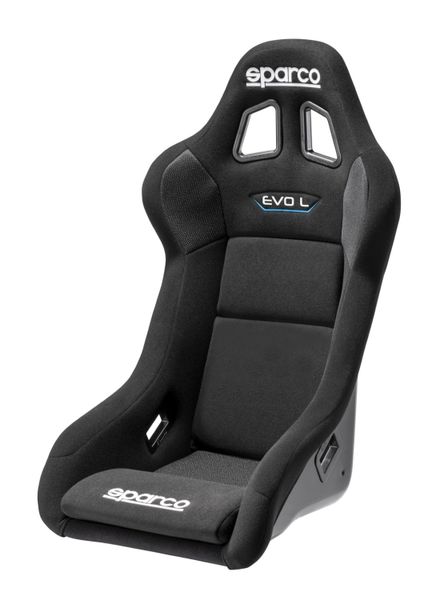 Seats-Sparco Street or Racing Drivers Seat/Competition Series EVO in Black - Small ,Medium ,Tall, Portly and Very Large people options (Mounting Base is an option))
EVO QRT is a great mid-priced Sparco seat for the occasional race use of your street 911. It does not provide the head bolsters (that Race only seats provide) that prevent movement side to side for your head. This same safety equipment obscures your vision in normal street driving.  Please remember that Racing is fun but can shorten your life just like everything that is makes life worth living !

The EVO QRT competition seat has been redesigned with new improved updates. The EVO QRT is now made with all-new QRT Technology which results in an ultra-light shell. The EVO QRT has been updated from the previous EVO seat with a reduced shoulder bolster dimension that allows fitment into smaller cockpits but can still accommodate a medium size driver. Also the shoulder harness belt openings have been raised to accommodate a taller driver. The EVO QRT series of seats feature the most back angle rake of all Sparco seats for a very comfortable driving position.  Available in cloth or vinyl.  The EVO QRT is FIA approved. 
SIZING
The EVO Series is our most versatile competition seat and is available in four sizes to ensure proper fitment.
EVO S – Small (up to 32" waist) width at base 15.9" at widest point 24.2"
EVO – Medium (up to 34" waist)                        15.9"                             24.2"
EVO L – Large (up to 36" waist)                         15.9"                            24.2"
EVO XL – X-Large (38" waist) width at base 17.1 " at widest point 25.6

WHAT IS QRT?
Designed and developed at the Sparco OEM Composite Laboratory in Italy, QRT is a patented state-of-the-art technical process, based on aerospace technologies.
QRT creates an unparalleled mechanical strength to weight ratio. This innovative production method generates the lightest fiberglass composite seat shells currently on the market; in fact, it guarantees a reduction in total weight of up to 30% compared to traditional production methods. The QRT seats approach the weight of a comparable carbon fiber seat at a lower price point.
TECHNOLOGY
QRT Ultralight fiberglass composite shell
Excellent fitment into small cockpits
4 Sizes: Small through XL
Excellent ergonomics
Fire retardant fabric
Special non-slip fabric
FIA approved
*** MOUNTING KIT IS SHOWN IN THIS LISTING AS AN OPTION. Seats are one of the most complicated parts we sell and just updated this category. We are trying to make it a little easier to find a proper choice for your needs.
   ***      ALL ORDERS ARE REVIEWED BY OUR SALES MANAGER BEFORE BEING SHIPPED TO CHECK FOR CORRECT SHIPPING COST AND CUSTOMERS WILL EITHER GET A PARTIAL REFUND OR NOTIFIED THAT THE COST WAS NO LONGER CORRECT AND MAY REQUEST ADDITIONAL FUNDS OR THE OPTION OF A REFUND . MULTI-PART ORDERS MAY END UP WITH A MAJOR REFUND FOR EXCESS SHIPPING.WE ARE ALSO CUSTOMERS AND HATE PAYING TOO MUCH FOR SHIPPING.***