Exhaust-Stainless Carrera Sport Performance Package Fits Porsche®996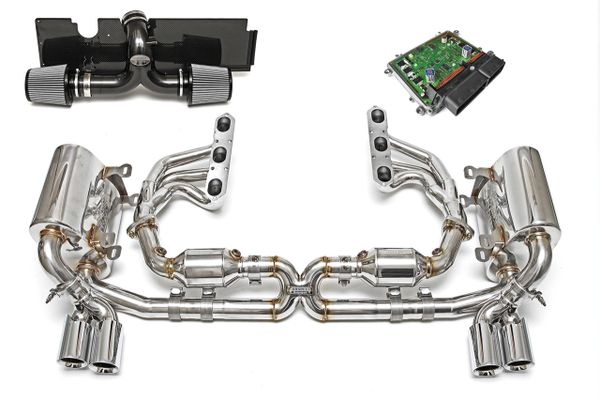 Exhaust-Stainless Carrera Sport Performance Package Fits Porsche®996
Complete high-performance exhaust & intake solution for the Porsche® 996 Carrera; includes Maxflo Performance Exhaust, Sportcat X-Pipe, Performance Headers, Competition Intake, EVOMSit ECU Tune & Deluxe Quad-Style Tips.                             


This Porsche®996 Carrera Performance Package replaces the restrictive OEM mufflers and factory cats with high-performance mufflers and 200-cell HJS Sportcats for a deeper, throatier exhaust note and improved power and throttle response.  The included Performance Headers replace the restrictive factory headers and with high-flowing motorsport headers.  Lastly, the restrictive factory airbox is replaced by Carbon Fiber Competition Intake System which increases the cold air flow into the engine for better power and sound.  All of these upgrades are then optimized by the EVOMSit ECU Tune which re-maps the timing, air-fuel ratios, and more in order to take full advantage of the upgraded components.

 FEATURES:
Fits all  Porsche®996 Carrera vehicles  1998-2004 (C4S models require specific tips)
Saves 12 lbs. versus the factory components
Increases horsepower and torque by 26 hp and 51 ft-lbs of torque
Dramatic improvement in sports car sound and power throughout the RPM range
Constructed from high-quality 14-16 gauge C.N.C. mandrel-bent T304L stainless steel for optimum flow and maximum durability
All included components are direct bolt-on replacements for the factory counterparts
Performance Headers feature C.N.C. mandrel-bent equal length primary pipes utilizing a 3-into-1 high velocity investment-cast pyramidal merge collector
Carbon Fiber Competition Intake is a direct replacement for the OEM air box and improves cold air induction to the engine for improved throttle response and overall power
Package includes Deluxe Quad-Style Tips, constructed from T304L stainless steel and available in either Polished or Black Chrome finish (C4S models require specific tips)
NOTE: Porsche®Carrera C4S models must re-use OEM tips.

   ***      ALL ORDERS ARE REVIEWED BY OUR SALES MANAGER BEFORE BEING SHIPPED TO CHECK FOR CORRECT SHIPPING COST AND CUSTOMERS WILL EITHER GET A PARTIAL REFUND OR NOTIFIED THAT THE COST WAS NO LONGER CORRECT AND MAY REQUEST ADDITIONAL FUNDS OR THE OPTION OF A REFUND . MULTI-PART ORDERS MAY END UP WITH A MAJOR REFUND FOR EXCESS SHIPPING.WE ARE ALSO CUSTOMERS AND HATE PAYING TOO MUCH FOR SHIPPING.***