Exhaust-Stainless Turbo / Turbo S Sport Performance Package Fits Porsche®993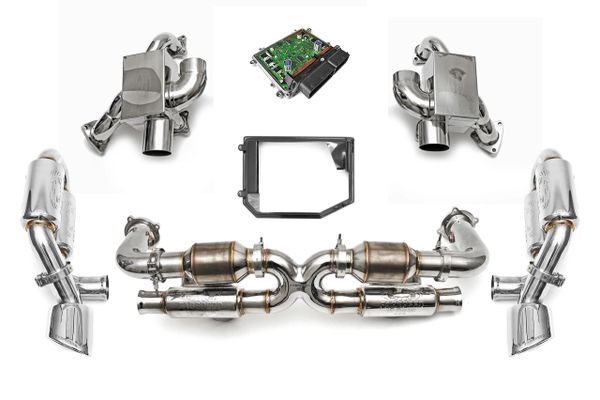 Exhaust-Stainless Turbo / Turbo S Sport Performance Package Fits Porsche®993
Complete high-performance Stainless exhaust solution for the  Porsche®993 Turbo; fantastically daily-driveable sound and power from Supercup Exhaust System, Sportcat X-Pipe, Sport Headers with Heat, CUP High Performance Air Box Cover, BMC F1 Air Filter and ECU Tuning Upgrade.
 FEATURES:
Fits all  Porsche®993 Turbo / Turbo S vehicles (1995-1998)
Constructed from T304 stainless steel, C.N.C. mandrel bent tubing for maximum power and exotic sports car sound.
Headers with heat contain a 3-into-1 high velocity merge collector for improved exhaust scavenging and maximum power.
German imported 200 cell catalytic converter cores which increase throttle response and horsepower.
Modular sportcat design which is a quick switch utilizing V-Band clamps from a daily driver to a track oriented 993TT. Catbypass Pipes purchased separately.
CUP air intake system works with stock OEM airbox and includes high performance BMC F1 air filter.
This package complies with warranty and emissions.
No Check Engine Light
NOTE: ECU upgrades are available for all Porsche®993 Turbo models, but you must specify which style of ECU your vehicle requires.  Early model Porsche®993 Turbo (1995) use an ECU EProm Flash, while the later cars equipped with the "drive-block" feature (1996-1997.5) use an OTP-style ECU.  You can verify that your car requires an OTP by inspecting the stickers on your factory ECU. Late model 993 Turbo (1997-1998) use a regular ECU flashing procedure.
If the number on the Porsche®sticker is 993.618.666.00, 993.618.666.01, 993.618.666.02 then you will need to select the OTP ECU Flash option.
If the number on the Porsche®sticker is 993.618.666.10, 993.618.666.11, 993.618.666.12 then you will need to select the ECU Software option.


   ***      ALL ORDERS ARE REVIEWED BY OUR SALES MANAGER BEFORE BEING SHIPPED TO CHECK FOR CORRECT SHIPPING COST AND CUSTOMERS WILL EITHER GET A PARTIAL REFUND OR NOTIFIED THAT THE COST WAS NO LONGER CORRECT AND MAY REQUEST ADDITIONAL FUNDS OR THE OPTION OF A REFUND . MULTI-PART ORDERS MAY END UP WITH A MAJOR REFUND FOR EXCESS SHIPPING.WE ARE ALSO CUSTOMERS AND HATE PAYING TOO MUCH FOR SHIPPING.***