Bearings Bushings- Monoball Cartridges for Front (Pair) 1965-89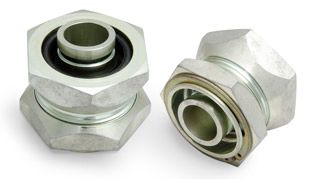 Bearings Bushings- Monoball Cartridges for Front (Pair) 1965-89
             ***EVERY ORDER IS REVIEWED BEFORE SHIPPED AND IF YOUR PURCHASE  IS FOR MORE THAN ONE PART EXCESS SHIPPING IS REFUNDED TO YOUR CREDIT CARD OR PAYPAL ***                                                                                            Performance
Today's sticky tire compounds generate corner loads that easily compress factory rubber bushings causing wandering alignment settings. Camber and toe flop around predictably.
Monoball Cartridges replace compliant factory rubber bushings with hardened-steel spherical bearings. Unlike poly bushings that bind and resist movement, true spherical bearings allow free motion on multiple axis.
Cartridges are available for rear trailing arms and front strut tops.
Weather Seals
Our proprietary-design Monoball cartridges have optional weather seals to keep dirt out and extend product life.
This is the only Monoball suitable for street or extended track use. Dirt and water contaminate ordinary products and accelerate wear.
• Precise, razor sharp handling
• Holds alignment settings true
• Weather-Sealed for long life
• Eliminates camber loss due to compression
• Extremely low friction