Control Arms-996/997 Adjustable Rear Toe Control Arms (Rear Track Rod) Pair 1999-2012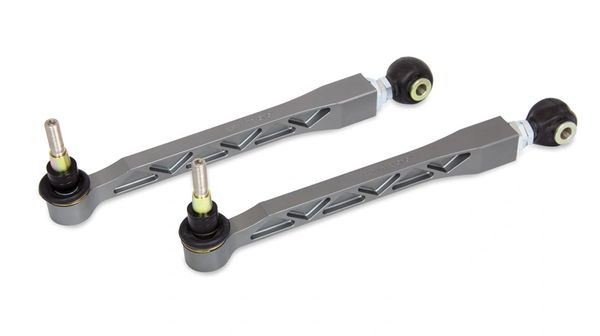 Control Arms-996/997 Adjustable Rear Toe Control Arms (Rear Track Rod) Pair 1999-2012
***      ALL ORDERS ARE REVIEWED BY OUR SALES MANAGER BEFORE BEING SHIPPED TO CHECK FOR CORRECT SHIPPING COST AND CUSTOMERS WILL EITHER GET A PARTIAL REFUND OR NOTIFIED THAT THE COST WAS NO LONGER CORRECT AND MAY REQUEST ADDITIONAL FUNDS OR THE OPTION OF A REFUND . MULTI-PART ORDERS MAY END UP WITH A MAJOR REFUND FOR EXCESS SHIPPING.WE ARE ALSO CUSTOMERS AND HATE PAYING TOO MUCH FOR SHIPPING.***
Adjustable Rear Toe Control Arm (Track Rod)
Lowered 966/997 run out of rear toe adjustment range. Our Adjustable rear toe links extend the range of adjustment and add bump steer correction.
Adjustable Length - Threaded double adjuster for easy toe settings.
Angled head - Lower the car and the toe links angle down. This shifts the ball stud from its center and limits the available range of articulation.
We solve this problem by angling the head to move the stud back towards the center of its range of articulation at static ride height.
Bump steer adjustable - The built in bump steer adjustment lets you dial in a minimal bump steer curve.
Fully weather sealed - Proper boots at both the ball joint and heim joint ends to keep water and contaminant out for extended life.