Control Arms-Adjustable Control Arms (Rear Lower Wishbone) Pair Fits Porsche® 996/997/ 1999-2012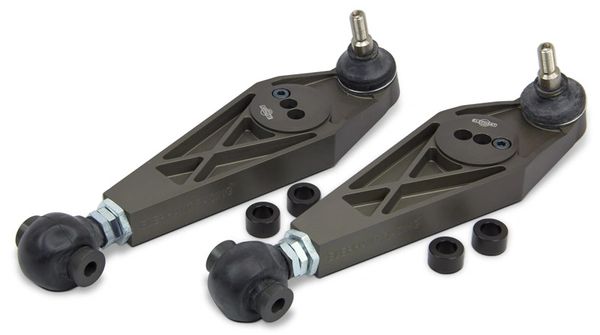 Control Arms-Adjustable Control Arms (Rear Lower Wishbone) Pair Fits Porsche® 996/997/ 1999-2012
***      ALL ORDERS ARE REVIEWED BY OUR SALES MANAGER BEFORE BEING SHIPPED TO CHECK FOR CORRECT SHIPPING COST AND CUSTOMERS WILL EITHER GET A PARTIAL REFUND OR NOTIFIED THAT THE COST WAS NO LONGER CORRECT AND MAY REQUEST ADDITIONAL FUNDS OR THE OPTION OF A REFUND . MULTI-PART ORDERS MAY END UP WITH A MAJOR REFUND FOR EXCESS SHIPPING.WE ARE ALSO CUSTOMERS AND HATE PAYING TOO MUCH FOR SHIPPING.***
Adjustable Lower Control Arms (lower Wishbone)
Elephant Racing adjustable lower control arms provide the camber, caster and precision you need. Length adjustable similar to the factory GT3 control arms, but without the need for shims.
Quick and easy adjustments - No need to keep a stock of shims on hand, length is easily adjusted by rotating the center hex head. Rotate clockwise to expand or counter-clockwise to contract the arm length.
Adjustments can be made within minutes. No shims to mess with. Perfect setup to make quick changes on the track day.
Widen track - Use in combination with our camberplates on the front, or our adjustable length arms upper control arms on the rear to widen the track. This allows you to achieve a wider track without altering the scrub radius as happens when using wheel spacers.
Heim Joint - Our spherical bearings eliminate the deflection associated with rubber bushings. These bearings maintain stable suspension alignment, and improve feedback.
Fully weather sealed - Proper boots at both the ball joint and heim joint ends to keep water and contaminant out for extended life. These arm are suitable for extended road and track use.
Litronic Bracket - This bracket is required for cars that are originally equipped with the litronic headlights. This adapter bracket attaches to the headlight angle sensor.
The arms are fully rebuildable with replaceable heim and ball joints.
Camber Adjustment - Extended range of adjustment lets you achieve aggressive camber. Or you can dial it back to get a factory street alignment on lowered cars.
Caster Adjustment - Our Caster Adjuster allows you to tune this important setting that the factory left out. A must-have for cars that have extended lower control arms to correct for un-intended caster change that is caused by the extended arms. Rotate the center puck and bolt down to secure the setting.
Center puck can be also used as a wheelbase adjuster on the rear to draw the wheels back to improve weight distribution. It is a great tuning aid for adjusting out understeer.