Control Arms-Adjustable (Rear Lower Wishbone) Pair Fits Porsche® 2012-2015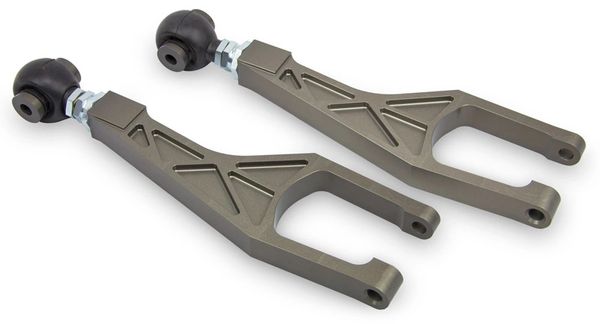 Control Arms-Adjustable (Rear Lower Wishbone) Pair Fits Porsche® 2012-2015
  ***      ALL ORDERS ARE REVIEWED BY OUR SALES MANAGER BEFORE BEING SHIPPED TO CHECK FOR CORRECT SHIPPING COST AND CUSTOMERS WILL EITHER GET A PARTIAL REFUND OR NOTIFIED THAT THE COST WAS NO LONGER CORRECT AND MAY REQUEST ADDITIONAL FUNDS OR THE OPTION OF A REFUND . MULTI-PART ORDERS MAY END UP WITH A MAJOR REFUND FOR EXCESS SHIPPING.WE ARE ALSO CUSTOMERS AND HATE PAYING TOO MUCH FOR SHIPPING.***                                                                                                           Adjustable Rear Lower Wishbone
For Porsche 991
We've developed 991 Rear Adjustable Wishbone to provide the camber and precision you need. Machined from billet aluminum, hard anodized and fully weather sealed, this arms are strong enough for track, durable for extended street use.
Easy Camber Adjustment - The double adjuster makes fast and precise camber changes in minutes. Dialing in your race car, or adding camber for the occasional track day is now a simple operation.
Camber Range - Extended range of adjustment lets you get aggressive camber. Or you can dial it back to get a factory street alignment on lowered cars.
Heim Joint
- Eliminate suspension deflection associated with rubber compression. For superior driving precision, spherical bearing type heim joints are used instead of the rubber bushings that are found in OEM control arms.
The arms are fully rebuildable with replaceable heim joints.
Fully weather sealed - Rubber boot protects the heim joint to keep water and contaminant out for extended life.
The kit includes both rear lower wishbones. Order one kit per car.

   ***      ALL ORDERS ARE REVIEWED BY OUR SALES MANAGER BEFORE BEING SHIPPED TO CHECK FOR CORRECT SHIPPING COST AND CUSTOMERS WILL EITHER GET A PARTIAL REFUND OR NOTIFIED THAT THE COST WAS NO LONGER CORRECT AND MAY REQUEST ADDITIONAL FUNDS OR THE OPTION OF A REFUND . MULTI-PART ORDERS MAY END UP WITH A MAJOR REFUND FOR EXCESS SHIPPING.WE ARE ALSO CUSTOMERS AND HATE PAYING TOO MUCH FOR SHIPPING.***