Camber-Adjustable Front Camber Plate Kit (1 Kit Per Car Includes 16mm Spacers) 1990-98 Fits Porsche® 964/993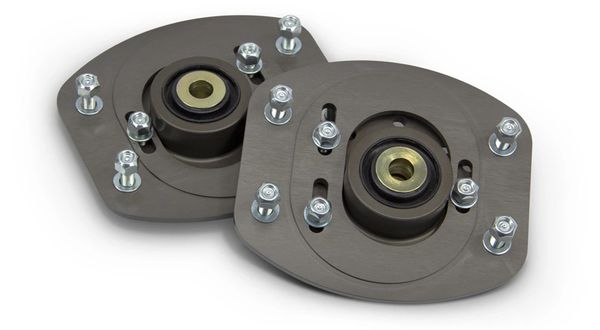 Camber-Adjustable Front Camber Plate Kit (1 Kit Per Car Includes 16mm Spacers) 1990-98 Fits Porsche® 964/993
             ***EVERY ORDER IS REVIEWED BEFORE SHIPPED AND IF YOUR PURCHASE  IS FOR MORE THAN ONE PART EXCESS SHIPPING IS REFUNDED TO YOUR CREDIT CARD OR PAYPAL ***   

Adjustable Front Camber Plate
Extend the range of camber adjustment and dial in your desired settings with ease.
These plates use high strength hardened steel spherical bearings and are direct replacements for the factory plates. The Teflon lined spherical bearings used in our kit are maintenance-free and require no supplemental lubrication. Included seals prevent contamination from water or grime, thus extending bearing life.
Ease of camber adjustment
Indices on the camber plate allow measured changes without setup tools.
Extended Caster
These plates deliver the same caster as the 993 for enhance camber gain when turning.
Fully Weather Sealed
We've designed in weather seals on the top and bottom to keep dirt out and extend product life. This is the only camber plate suitable for street or extended track use. Dirt and water contaminate ordinary products and accelerate wear.
This camber plate is intended to be used with a non-factory upper spring perch and spring. This kit is suited to work perfectly with Von Coilover systems or other similar solutions.
Please contact Elephant Racing if you wish to use this camber plate kit in conjunction with factory or lowering springs.
Improved shock / coilover performance
Spherical bearings further improve performance. The spherical bearings pivot freely and eliminate the deflection that is inherent with the factory rubber bushings. This is important for two reasons;
- The factory rubber acts as a spring in series with the strut. This rubber spring-action is completely un-damped and reduces the struts ability to control the tire contact patch. The spherical bearing allows the strut damper to do its job and control the contact patch.
- The factory rubber deflects sideways under cornering loads, causing loss of camber just when you need it most. Our spherical bearings eliminate the deflection, maintaining stable and predictable camber.