Spring Plates-QuickChange Spring Plate Kit (1 Kit Per car) Fits Porsche®1969-86 911/912 1975-87 Porsche® 930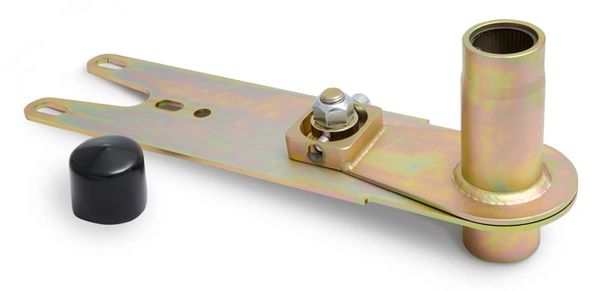 Spring Plates-QuickChange Spring Plate Kit (1 Kit Per car) Fits Porsche®1969-86 911/912 1975-87 Porsche® 930
Change Torsion Bars and Adjust Ride Height
QuickChange spring plates make fast-work of torsion bar re-indexing and replacement. Screw-type adjuster makes corner balancing and ride height adjustment a breeze. Pairs the high quality of the factory design with ease of servicing.
• 5 minute torsion bar changes
• Fast and easy ride-height adjustment
• Accepts standard bushings
Setup is fast and easy
If you've ever re-indexed torsion bars to correct ride height, you can really appreciate the benefits of QuickChange. Used in combination with our QuickChange Torsion Bars and Polybronze Bearings , this spring plate allows rapid replacement or re-indexing of torsion bars.
QuickChange Torsion Bar Changeout
 QuickChange Torsion Bars can be extracted through the QuickChange Spring Plate without removing any bolts. Alignment settings are maintained. You don't even need to remove the wheel from the car. Changing torsion bars is a 5 minute per side operation!
Unlike other aftermarket spring plates, QuickChange Spring Plates bolt the plates together. This prevents the plates "halves" from sliding against each other and eliminates failures and metallic clicking noises common with competing products.
Can be used with any torsion bar and bushing that fits factory spring plates - not included - however QuickChange Torsion Bars and Polybronze bearings  are required to use torsion bar extraction features
Kits for '69-'86 long wheel base cars include a screw type height adjuster. Kits for '65-'68 short wheel base cars use an eccentric bolt height adjuster for improved tire clearance.
To add QuickChange functionality to your existing set of '77-'86 factory adjustable spring plates or , you can order the Splined Hub separately.
   ***      ALL ORDERS ARE REVIEWED BY OUR SALES MANAGER BEFORE BEING SHIPPED TO CHECK FOR CORRECT SHIPPING COST AND CUSTOMERS WILL EITHER GET A PARTIAL REFUND OR NOTIFIED THAT THE COST WAS NO LONGER CORRECT AND MAY REQUEST ADDITIONAL FUNDS OR THE OPTION OF A REFUND . MULTI-PART ORDERS MAY END UP WITH A MAJOR REFUND FOR EXCESS SHIPPING.WE ARE ALSO CUSTOMERS AND HATE PAYING TOO MUCH FOR SHIPPING.***