Suspension System-GT3 Front Suspension Fits Porsche®911 1965-89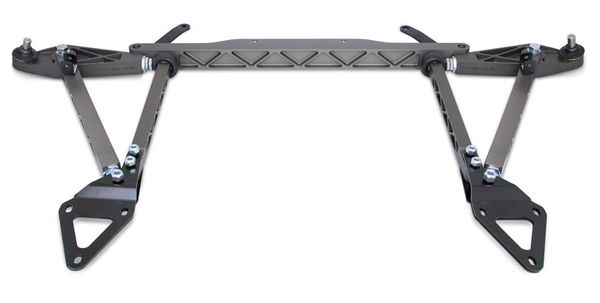 Suspension System-GT3 Front Suspension Fits Porsche®911 1965-89
The ultimate front suspension system
Our GT3 front suspension delivers superior grip and ride quality.
We've adapted our Porsche®997 GT3 control arms to fit early Porsche®911s, '65-'89. The system includes a complete subframe and replaces the stock crossmember, control arms, mounts, bushings and ball joints. Built from aircraft grade aluminum, the system is about half the weight of the replaced components.
For use with Coilover system only
Ease of adjustment
Easily adjust camber, caster and even track width. Left and right threaded double adjusters are provisioned on the control and caster arms to provide for easy length adjustment without disconnecting the member.
Low friction, spherical action
Low friction allows the suspension to follow road/track irregularities smoothly, keeping tire contact patches stable. Ride and performance are greatly improved.
Pivot points are precision spherical heim joints, oversized for strength and durability. Spherical heim joints move freely with very low friction, yet precisely position suspension members to maintain alignment settings with zero deflection under load. Lack of deflection makes the car predictable and easier to drive fast, reducing need for constant corrections by the driver.
Spherical action of the heim joints self aligns continuously, ensuring smooth non-binding action even when the chassis is flexing under load.
Improved Geometry and subframe
Control arms are longer than stock to provide a improved camber curve and grip when cornering. Front pickup point is similarly moved inboard to maintain a stable caster curve.
Our GT3 subframe includes longitudinal members that connect the front mounts back to the crossmember. This provides a proper load path to transfer the considerable braking forces from the front mounts back to the crossmember. This mimics the braking load path of the factory 935 arms and product control arms.
Braking loads are thus fed into the chassis at the crossmember, as intended by the factory.
Weathersealed
Heim and ball joints are completely sealed to keep out contaminant and water. The result is a extended life and a robust system suitable for street or track use.
| | | | |
| --- | --- | --- | --- |
| Part No. | OEM Equivalent | Fit | |
| 2180010 | | '65 - '89 | |
Fit and finish
Attention to detail stands out. From the quality of the machine work to the hard anodize finish that is both attractive and scratch resistant. Stressed threads are heli-coiled for strength. Heim joints are replaceable and sealed for durability.
The system readily bolts onto your existing chassis, no drilling or welding required - installation is completely reversible.
   ***      ALL ORDERS ARE REVIEWED BY OUR SALES MANAGER BEFORE BEING SHIPPED TO CHECK FOR CORRECT SHIPPING COST AND CUSTOMERS WILL EITHER GET A PARTIAL REFUND OR NOTIFIED THAT THE COST WAS NO LONGER CORRECT AND MAY REQUEST ADDITIONAL FUNDS OR THE OPTION OF A REFUND . MULTI-PART ORDERS MAY END UP WITH A MAJOR REFUND FOR EXCESS SHIPPING.WE ARE ALSO CUSTOMERS AND HATE PAYING TOO MUCH FOR SHIPPING.***