Coilover Parts-Sleeve Kit For Bilstein Front (Springs Not Included) Pair Fits Porsche® 911 1965-89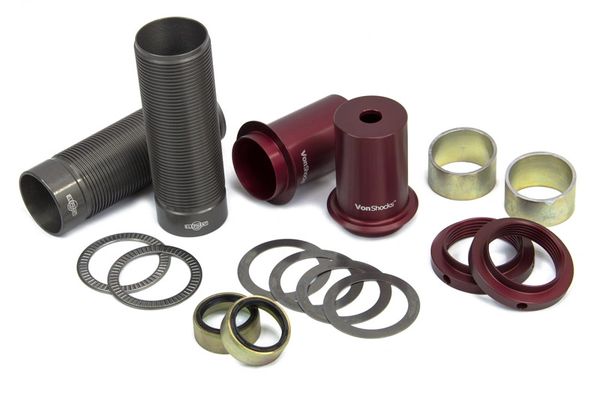 Coilover Parts-Sleeve Kit For Bilstein Front (Springs Not Included) Pair Fits Porsche® 911 1965-89


             ***EVERY ORDER IS REVIEWED BEFORE SHIPPED AND IF YOUR PURCHASE  IS FOR MORE THAN ONE PART EXCESS SHIPPING IS REFUNDED TO YOUR CREDIT CARD OR PAYPAL ***   

Front Coilover Sleeve Conversion Kit
Conversion kits provide a cost-effect way to convert to a full coilover setup while retaining your existing non-threaded Bilstein or Boge struts. Our no-weld kit converts regular Bilstein or Boge struts to full adjustable height coilover setup.
For Bilstein Struts
For Boge Struts
Front Sleeve Conversion kit contains all these items:
Upper Perch - Extended to move spring below chassis, thus allowing max camber adjustment range. Choose perch for regular camber plates or QuickChange Camber Plate fitment.
Seat Bearing Kit - Prevents spring wind-up allowing ease-of-steering.
Strut inserts - Are not included. You may wish to purchase Von Shocks valved to match your chosen springs.
Strut Wiper - Shortens strut 3/4 inch for added travel, much needed on lowered cars.
Lower Perch - Easy height adjustment and corner balancing. Clamp-type is secure and kind to threads.
Threaded Sleeve - Provides height adjustability. Compact design fits 2.25 inch springs for superior tire clearance. Boge Struts require a 2.5" spring. The Boge kit comes with 2.25" to 2.5" spring adapter.
Sleeve Base - Slips on and positions threaded sleeve, no welding required.
*Choose Camber Plate mount option