Bearings Bushings- Spring Plate Bushing Replacement Kit (1 Kit Per Car) 964 1989-94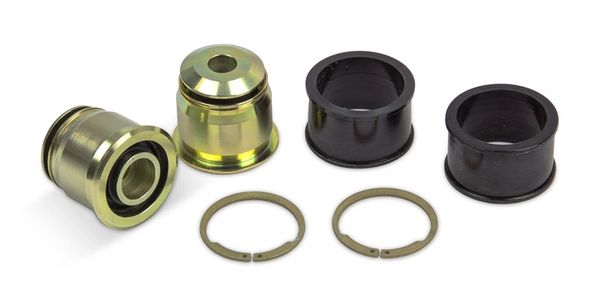 Bearings Bushings- Spring Plate Bushing Replacement Kit (1 Kit Per Car) 964 1989-94
 ***EVERY ORDER IS REVIEWED BEFORE SHIPPED AND IF YOUR PURCHASE  IS FOR MORE THAN ONE PART EXCESS SHIPPING IS REFUNDED TO YOUR CREDIT CARD OR PAYPAL ***                                                                                                                  Spring Plate Bushing Replacement Kit
Now over 20 years old, 964 Spring plate bushings are beginning to fail.
Our bushing replacement kit allows you to restore your original spring plates, without the high cost of complete replacement plates. Our product is modeled after the factory original bushings and similarly includes a spherical bearing encased in an outer elastomeric layer. The elastomeric layer provides noise and vibration isolation, similar to the OEM components.
Spring Plates are not included. For reference only.
Our bushing replacement kit includes fully sealed monoball cartridges featuring maintenance free PTFE linings that require no lubrication. The cartridges are encased in an elastomeric layer that is slightly firmer than stock to improve performance, reducing deflection under load while maintaining the noise isolation characteristics of the original rubber. Weather seals keep dirt out and extend product life.
Fits all 964 and 965, Order 1 kit per car.