Caster-Caster Adjuster Kit (Front) Fits Porsche® 996 1999-2005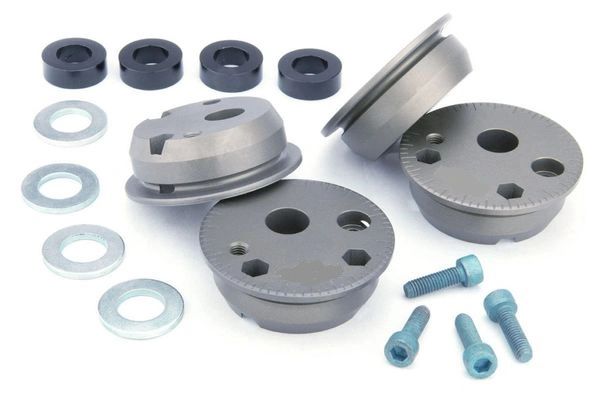 Caster-Caster Adjuster Kit (Front) Fits Porsche® 996 1999-2005
        ***EVERY ORDER IS REVIEWED BEFORE SHIPPED AND IF YOUR PURCHASE  IS FOR MORE THAN ONE PART EXCESS SHIPPING IS REFUNDED TO YOUR CREDIT CARD OR PAYPAL ***   

                                        Our Caster Adjuster allows you to tune this important setting that the factory left out. A must-have for cars that have extended lower control arms (GT3 control arms or eccentric monoballs) to correct for un-intended caster change that is caused by the extended arms.
Caster is also a great tuning aid for adjusting out understeer. Our Caster Adjusters let you tune the caster you need.
Two eccentric mounting points increase range of adjustment by up to 25mm. Choose from the inner bore for minor caster adjustments or the outer bore for extreme adjustments.
Rear Weight Bias
For the rear suspension, our Caster Adjuster can reduce rear overhang and rear weight bias. Cars with aggressive rear camber actually draw the wheels forward, increasing rear weight bias. Use our Caster Adjuster to compensate and even over-compensate for less rear weight bias than stock!
Maintain Proper Alignment
Our Caster Adjuster is solid aluminum to hold alignment settings precisely. Stock rubber bushings compress under load, allowing alignment to wander and making the car less predictable. Our solid design eliminates compression, improves precision and maintains geometry true.
Functional Design Built To Last
Available for factory type lower control arms (wishbones) front and rear, including stock type arms and GT3 arms
Order 1 kit per pair of control arms, front or rear