Bearings Bushings- Track Rod Eccentric Monoballs (Rear) (Pair)991 2012-15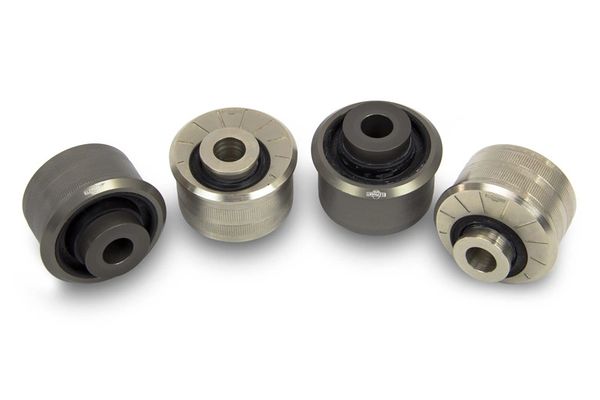 Bearings Bushings- Track Rod Eccentric Monoballs (Rear) (Pair)991 2012-15
***EVERY ORDER IS REVIEWED BEFORE SHIPPED AND IF YOUR PURCHASE  IS FOR MORE THAN ONE PART EXCESS SHIPPING IS REFUNDED TO YOUR CREDIT CARD OR PAYPAL ***                                                                                                                    Track Rod (Rear) Eccentric Monoballs
For 2012-15 991

This monoball cartridge kit replace the inner and outer track rod bushings. The inner Eccentric bearings provide increased range of toe adjustment. This is to compensate for increased camber or lowered car that cannot be brought into toe range. The outer concentric bearing replaces the rubber bushing and eliminates deflection due to rubber compression.
Eccentric bearings are made from hardened steel, plated and weather-sealed to keep road contaminates out. These bearings are made to last.
Toe Out- Position the eccentric to maximize Track Rod length, adding .25 inches length. Perfect for cars with increased negative camber that ran out of toe adjustment range.
Shown with factory track rod, not included
Toe In- Position the eccentric to minimize Track Rod length. Perfect for lowered cars that have too much toe out and ran out of toe adjustment range.