Bearings Bushings- Lower Control Arm (Wishbone) Eccentric Monoballs (Rear) (Pair)991 2012-2015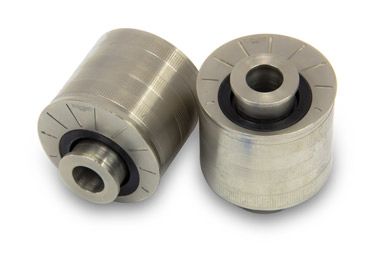 Bearings Bushings- Lower Control Arm (Wishbone) Eccentric Monoballs (Rear) (Pair)991 2012-2015
***EVERY ORDER IS REVIEWED BEFORE SHIPPED AND IF YOUR PURCHASE  IS FOR MORE THAN ONE PART EXCESS SHIPPING IS REFUNDED TO YOUR CREDIT CARD OR PAYPAL ***                                                       Lower Wishbone (Rear) Eccentric Monoballs
2012-2015 991

Our Eccentric Lower Wishbone Monoball Cartridges replace inner rubber bushings with spherical bearings, providing low friction and precisely holding camber settings. The eccentric design allows increasing or decreasing rear camber, as needed.
Made from hardened steel, plated and weather-sealed, these bearings are made to last.
Increasing Rear Camber - Position the eccentric to maximize Lower Wishbone length, adding .25 inches length and about 1 degree of negative camber. Cost effective for cars that just want extra camber. For even more camber and ease of adjustment, see our fully adjustable rear lower wishbone.
Shown with factory wishbone, not included
Decreasing Rear Camber - Position the eccentric to minimize Lower Wishbone length. Perfect for lowered cars that have too much negative camber and want to get back to factory camber settings to minimize tire wear on the street