Camber-QuickChange Camber Plates (Pair) Fits Porsche® 996 997 1999-2012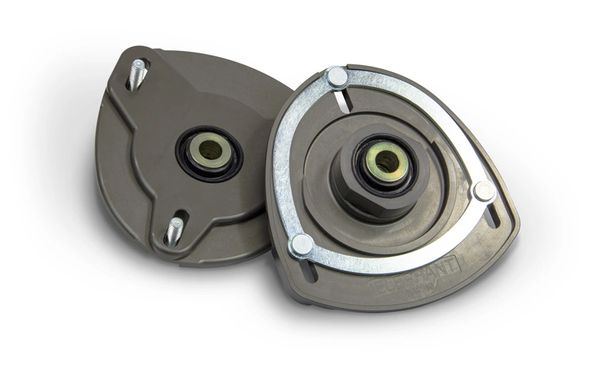 Camber-QuickChange Camber Plates (Pair) Fits Porsche® 996 997 1999-2012
             ***EVERY ORDER IS REVIEWED BEFORE SHIPPED AND IF YOUR PURCHASE  IS FOR MORE THAN ONE PART EXCESS SHIPPING IS REFUNDED TO YOUR CREDIT CARD OR PAYPAL ***   

               Ease of Adjustment
Elephant Racing's QuickChange™ Camber plates for the front of 996 and 997 cars offer true ease of adjustment. The "slider" design allows a full range of adjustment without the need for removing and rotating the plate.
More Camber
Range of adjustment is extreme, with 19mm of added travel. This delivers over 2 degrees of added camber, allowing even DOT-R tires and slicks to produce maximum grip.
Fully Weather Sealed
The included spherical bearings are oversized, maintenance-free, and PTFE lined - they never need lubrication.
Integrated weather seals on both bottom and top of the spherical bearing extend bearing life. Dirt and water enter competing non-sealed products to accelerate bearing wear. Worse yet are bottom-only seals that can actually trap water that enters the open bearing top!
Our weather seals are fully compatible with coilovers and stock type springs.
 Higher Performance
Spherical bearings further improve performance. The spherical bearings pivot freely, but eliminate the deflection that is inherent with the factory rubber bushings. This is important for two reasons;
- The factory rubber acts as a spring in series with the strut. This rubber spring-action is completely un-damped and reduces the struts ability to control the tire contact patch. The spherical bearing allows the strut damper to do its job and control the contact patch.
- The factory rubber deflects sideways under cornering loads, causing loss of camber just when you need it most. Our spherical bearings eliminate the deflection, maintaining stable and predictable camber.