Brakes-Brembo GT Red,Yellow,Black,Silver (Black Rear Shown) 4 Piston 1 Piece Cross Drilled Rotors Only (Pair)Porsche® 911S/SC/Carrera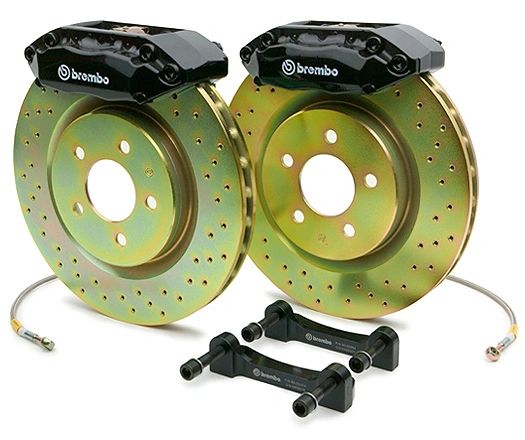 Brakes-Brembo GT Red,Yellow,Black,Silver (Black Rear Shown) 4 Piston 1 Piece Cross Drilled Rotors Only (Pair)Porsche® 911S/SC/Carrera
As the braking system's primary function is to dissipate heat, larger, more sophisticated discs are used in order to increase the fade resistance of the system. These discs are directionally vented for enhanced cooling, as well as drilled or slotted for improved consistency, continuously cleaning and refreshing the pad surface.  (F) 4-Piston Monoblock | 323x28 mm (12.7") | 1-Piece Discs Solutions and technologies born on the race track

Braking systems consisting of motorsports-derived components offering levels of technology and performance without par on the market today and embodying the purest expression of Brembo's state-of-the-art technology.

The kit consists of aluminium calipers with opposed pistons which, depending on the car model and in increasing order of performance, may be composite, monoblock or even billet monoblock components, combined with cross-drilled or slotted one-piece or composite oversized discs.
Brembo kits combine the best solutions available to offer the perfect solution for the individual characteristics of each model.

The heart of the kit consists of aluminum calipers. These are also available as mono block parts machined from a single billet of cast aluminum, which ensure outstanding rigidity and minimized deformation. The discs supplied in the kit, which may either be floating or one-piece, depending on the specific car model, feature an exclusive venting system that improves cooling capacity and increases resistance to cracking caused by thermal shock by over 40%.

Cross-drilled and slotted finishes are designed and executed with meticulous precision. These holes or slots in the braking surface help dissipate heat and eliminate brake dust and gases. A set of high-performance brake pads with specific friction materials for each application, TÜV/DOT  stainless steel metal-braided hoses, an adapter and a high-quality fastener hardware complete the kit.
   ***      ALL ORDERS ARE REVIEWED BY OUR SALES MANAGER BEFORE BEING SHIPPED TO CHECK FOR CORRECT SHIPPING COST AND CUSTOMERS WILL EITHER GET A PARTIAL REFUND OR NOTIFIED THAT THE COST WAS NO LONGER CORRECT AND MAY REQUEST ADDITIONAL FUNDS OR THE OPTION OF A REFUND . MULTI-PART ORDERS MAY END UP WITH A MAJOR REFUND FOR EXCESS SHIPPING.WE ARE ALSO CUSTOMERS AND HATE PAYING TOO MUCH FOR SHIPPING.*** 
---