Body Components-Turbo Moshammer EVO 2 Frontspoiler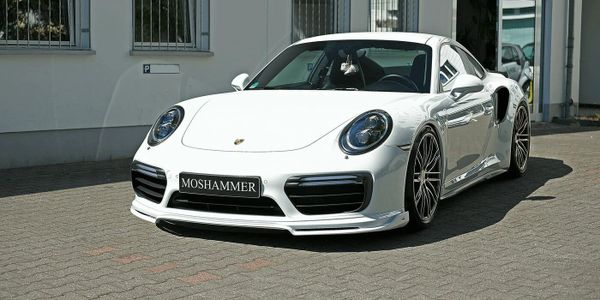 Body Components-Turbo Moshammer EVO 2 Frontspoiler
             ***EVERY ORDER IS REVIEWED BEFORE SHIPPED AND IF YOUR PURCHASE  IS FOR MORE THAN ONE PART EXCESS SHIPPING IS REFUNDED TO YOUR CREDIT CARD OR PAYPAL ***   

The Moshammer Turbo evo2 front spoiler ensures the best possible aerodynamic properties and is at the same time a beautiful oem+ design element that gives your car a unique appearance.
EVO2 front spoiler with side wings!(like the 993RSR) this front spoiler adapts the factory Turbo front bumper and ads an element of visual appeal.
The Porsche® active aerodynamic front spoiler functional capability stays and is not impaired.
This article P991.20.1022 is delivered unpainted. Mounting material is included.
With TÜV parts certificate (§19.3)!
For all Porsche 991 Turbo | Turbo S
* The vent installation requires cutting the original bumper cover . Kit includes a high quality pattern and directions.

  **All orders for (Moshammer) body components are shipped from our European manufacture direct to the customers .The exact cost of shipping listed in our online store is only an estimate because we ship all over the world and there is no way we know of to quote an exact price on large body parts that need to be boxed and sometimes crated .Due to the fact that the Euro and US Dollar are always changing value there maybe either a rebate or additional funds required.Customer is responsible for payment of all import tariffs and taxes.